Planting the Seeds of Hope
At the root of the climate crisis is the fundamental problem of humanity's alienation from nature. Accordingly, one of the most radical, bold, and transformative actions we can take is both natural and straightforward: planting trees en masse in order to regenerate and strengthen our local ecosystems and sequester tremendous amounts of carbon dioxide to stave off global warming.
Currently, natural climate solutions such as reforestation are among the most undervalued elements of what the latest science determines is absolutely necessary to prevent catastrophic, runaway global warming. One recent study shows that even a 100% elimination of fossil fuel emissions worldwide by 2030 is not enough to safeguard against this dystopian future. According to the IPCC, to even get halfway towards achieving this goal would require "unprecedented transitions in all aspects of society."
This means that even total decarbonization – while absolutely necessary – is simply no longer enough. Only a massive movement for carbon sequestration – actively drawing down carbon dioxide from the atmosphere through natural methods such as planting trees – paired with slashing carbon emissions will succeed in preventing runaway warming.
The natural carbon storage of plants
Despite the scientific studies showing that sequestration would help us achieve more than a third of our climate target, it is currently receiving less than three percent of public climate financing. Data shows, however, that our planet has room for planting at least a trillion more trees, capable of removing more than a decades' worth of emissions from the atmosphere. This makes trees "our most powerful weapon in the fight against climate change," according to the scientist who conducted this study.
Amazingly, the benefits trees provide for the environment and communities go well beyond carbon sequestration. Trees provide crucial habitats for numerous species, help regulate water and temperature to prevent drought, flooding, and heat waves – even in urban spaces – and they improve mental health, agricultural productivity, and provide a renewable source of food for the community.
Together it is entirely possible and necessary for us to plant millions, even billions of trees over the next decade as a crucial part of the effort to preserve a livable planet for future generations and all life on earth. Recently, people have broken records by coming together in countries such as Pakistan and India to plant tens of millions of trees in just a single day! Such mass mobilizations have yet to take place in the United States, which bears the greatest responsibility for the greenhouse gas emissions currently trapping heat in our atmosphere. It is up to us change this – fast – and in a big way.
That is why the fundamental mission of Branch Out is to both inform and mobilize the growing climate movement towards natural sequestration. Our quarterly newsletter finances and strengthens our ongoing and planned tree-planting projects. Some of the particular aspects of our approach include:
Partnerships with Indigenous Peoples – Study after study is showing us that Indigenous land management is essential to protect forests and trees and ensure they flourish. These partnerships will ensure that our organization respects the original inhabitants and stewards of this land (Turtle Island) while working together to achieve the best result for Mother Earth and future generations.
Maximum Impact Based on Science – We've done our research, and will be planting fast-growing trees across the country with the greatest ability to store carbon, such as the Dawn Redwood. Our projects will vary on a regional and local basis to ensure that our trees strengthen biodiversity and their local ecosystems.
Urban Agroforestry – Trees provide numerous benefits for cities, including climate and flood resilience, improving urban gardening projects, and providing a vital source of low-carbon (less transport needed) fruits and nuts. We are looking forward to future community engagement projects which will link our tree planting projects with urban gardeners, community food banks, and more.
Youth Engagement – It is the future generations who will bear the greatest burden of global warming, and we have begun outreach and networking with youth climate organizations to incorporate tree-planting and climate education into scholastic and extracurricular activities.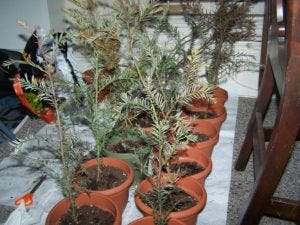 The first 11 Redwood Saplings raised by Branch Out, in their infancy
Planting trees is an immediate and practical solution which will provide both long-term and short-term benefits. Trees not only help slow global warming, but they also help to mitigate its effects. We can no longer afford to wait for others to do this work for us, and the more we do now to plant trees and build our capabilities as a carbon sequestration movement, the better positioned we will be to fight for and ensure that greater public and private support will be marshaled in support of projects like ours.
Please do not hesitate to get involved – our planet is counting on you!
Volunteer: Whether you'd like to join or organize a tree-planting project, make available land for planting trees, or help us with our newsletter and mobilization efforts, there are plenty of ways you can help!

Subscribe: Receive our quarterly newsletters for free by subscribing online at branchoutnow.org, and spread the word to help us grow our readership

Donate: We are an all-volunteer organization, and 100% of our funds go towards tree planting, publishing and upkeep. Supporting Branch Out is an immediate and effective way to directly fund global cooling! Your donations make our work possible: branchoutnow.org/donate
WORKS CITED:
Urgent and unprecedented transformation across our economies needed to combat climate change, Global Environment Facility
Climate study warns of vanishing safety window—here's why, National Geographic
The Best Technology for Fighting Climate Change Isn't a Technology, Scientific American
Research: Planting Trillions of Trees Could Cancel Out CO2 Emissions, Futurism
India plants 66 million trees in 12 hours as part of record-breaking environmental campaign, The Independent
Pakistan has planted over a billion trees, World Economic Forum
The Power of Trees, Climate Central
Why Planting Trees During A Drought Is A Great Idea!, Our City Forest
Improve mental health with exposure to trees and nature, Forestry News
Indigenous rights are key to preserving forests, climate change study finds, The Guardian
Land Use, Climate Change Adaptation and Indigenous Peoples, United Nations University
Study Finds Indigenous Land Management Highly Effective in Combating Climate Change, YES! Magazine
The Fastest Fast Growing Trees, Arbor Day Foundation
Dawn Redwood, Arbor Day Foundation
Dawn Redwood: Plant Profile, The Spruce
How urban agriculture can improve food security in US cities, The Conversation
Urban agroforestry can address nutrition in growing cities, World Agroforestry
Overstory #213 – Urban Forestry For Multifunctional Urban Land Use, AgroForestry
Urban Agroforestry: Connecting agroecology, permaculture, urban forestry and urban agriculture with agroforestry, University of Missouri
Children will bear brunt of climate change impact, new study says, The Guardian
The post Planting the Seeds of Hope appeared first on Branch Out.